Geetha Yogachandran as Asian "Face of London"
The Asian "Face of London" on mural painted at the "Fast Forward" Event in Trafalgar Square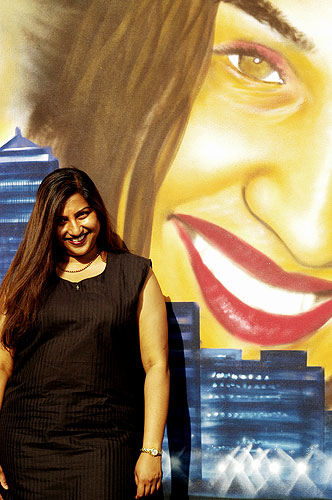 As part of the plan, to make London the culture city of the world, "Fast Forward", partnered with the 'Arts Council England', 'Decibel', 'London 2012', 'BBC Blast' and the Mayor of London; Trafalgar Square hosted the event on Sunday, 22nd August. A bright, sunny London was inviting, where the pigeons gave way to hundreds of people of all colours, shapes and sizes, for this event, which showcased many a talented artiste.
Of this event, which featured many a talented artiste on the specially erected stage, the highlights were: rapper Estelle, singer Terri Walker and the very talented JJC (the man behind UJ Supergroup, Big Brovas) and his 419 squad, who represent Nigeria, Africa. With some remixed Bollywood music keeping the crowds and specially choreographed dancers entertaining the crowds, the "Faces of London" mural, which was painted live, during the afternoon, on a massive canvas, by aerosol artistes, Mac1 and Tassle 2004 attracted an enormous amount of interest.
The painting itself was of major monuments of London (like the London Eye, Big Ben e.t.c.) and it included 4 faces of the different ethnicities that make up this city, chosen from a competition run by Shehani Fernando of BBC.
Catching up with the Asian face of London, British Sri Lankan, 'Geetha Yogachandran', who was chosen among many entrants, she tells us: "Although I was not born in London, but in my Native of Sri Lanka, I have a diverse background, having grown up in Sri Lanka, Denmark and Nigeria, West Africa; I then spent all of my teenage years onwards, in London (East, West and South) and find that it is the place that offers all the culture I need - whether this is Carnatic (South Indian) music, R&B, Hip Hop, Reggae music, Jazz or Western Classical or the food, my diet ranging from Sri Lankan to Nigerian to Thai to Italian to Lebanese - I feel that in my varied travel around the world, no other city comes close to bringing the multi-culturalism that London does, although some element of racism is prevalent, the vibe of the city is one that embraces us all and encourages the various ethnicities to pool together, to make something very special indeed. I feel like a true Londoner and am someone who wants to give back, to this city of much joy."